Welfare
"Half of our employees switch to the Naeil Cheum Fund"
본문
Government grants for more than one year... Conversion to Naeil Cheum Fund 
In addition, there is a 'Youth Tomorrow Filling Deduction' that helps young people who are employed by small and medium-sized enterprises to raise money, or a 'Tomorrow Filling Deduction for Young Employees' that has already served for more than one year. As a result, there are also companies joining the Tomorrow Filling Mutual Exemption, which are moving rapidly with the new system. SME's SMEs is a representative.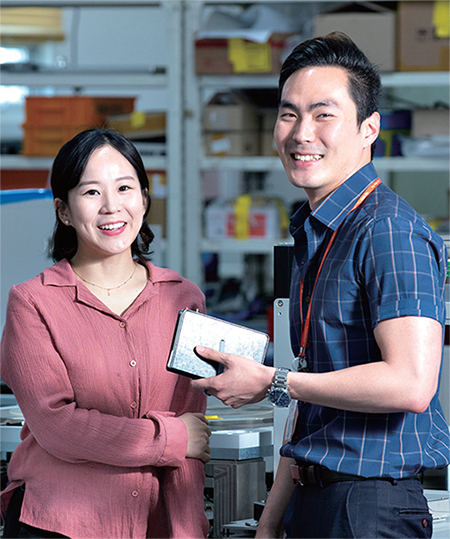 Semics Co., Ltd. is a company that manufactures wafer Prover equipment that checks whether wafer chips made in semiconductor processes work properly. Since its establishment in 2000, the company achieved its first export performance in 2002 and succeeded in listing the KOSDAQ in 2007. The following year, the company suffered a number of difficulties due to the global financial crisis, but it showed steady growth based on its technological prowess, and surpassed 50 billion won in sales last year, making it the world's third-largest wafer proverter company.

As a manufacturer, solid technology can be cited as a reason for the growth of Semix, but "manpower" of its employees is also a factor that cannot be omitted. According to Jung Mi-hwa, a director of Planning Division 1, the maintenance of key personnel for small and medium-sized companies complaining of difficulties was no exception to Semix.

"It was hard to avoid the limitations of being a small business. For example, financial power, items, and sales liquidity were the biggest concerns in fostering talent. It wasn't easy to spend fixed costs on maintaining and managing good employees. We've been thinking about how to support our performance-based bonuses for a certain period of time, and the solution we found was tomorrow's fill deduction."

About 70 out of 110 Semics employees have joined the tomorrow's fill deduction. Regardless of their rank, these employees have been paying 50,000 won a month since June 2016. The higher the position, the higher the corporate burden, but the company's consideration is to minimize the burden by freezing the employee's payment. In fact, the staff expressed high satisfaction. It has been three years since Kim Ji-soo joined the company. Although he once dreamed of joining a conglomerate like any other job seekers, he chose this place because of the Semix welfare policy. Along with tomorrow's fill deduction, Semix operates various welfare systems, including stock options, the employee stock ownership association, and the in-house labor welfare fund corporation.

"I was interested in the benefits that the company offered. After I joined the company, the atmosphere in the company is more than I expected. Above all, I like tomorrow's fill deduction, which started two years ago. Considering the amount you will receive at maturity, it's not too much to pay 50,000 won a month. I'm proud to think that I can use it as a wedding fund later on."

The company decided to convert about 50 people, including acting manager Kim Ji-soo, into those subject to the system when the deduction for tomorrow's job was implemented. The average age group of Semics workers is 31.9 years old. This is why it is more necessary to introduce tomorrow's fill deduction for young employees.

Jung Joon-mo, director of the Planning Department 1, recently brought up the story that there were some applicants who wanted to join the company after seeing the fill deduction tomorrow. Chung is also an employee who is about to switch to the job market for young employees will be eligible for the tomorrow's job deduction.

"When I put the recruitment notice on the benefits package, I wrote down the tomorrow's fill-in deduction, and there are people applying because they like that part. Isn't it good for everyone because the company can recruit talented employees and the employees can get financial support? Some friends don't know the system and can't benefit from it. I ask back if that makes sense, but I don't believe it. When it's due, you have to bragain.

The phrase "The Future of the Semics" on one wall of the Semix office caught my eye. Under the phrase, 'a company that answers the question of which company is a good company' is written.

"If you don't know any good policies, you won't be able to enjoy them," said director Jung Mi-hwa. "I hope that companies above some level will be forced to implement a system such as tomorrow's fill deduction."

Naail Cheum Fund could also be eligible.

Meanwhile, the Ministry of SMEs and Startups and the Small and Medium Business Corporation began accepting applications for tomorrow's deduction for young employees on June 1. Earlier in March, the government announced a plan to create a new tomorrow's fill deduction for young people as part of its job measures for young people, and the passage of an extra budget at the National Assembly raised the anchor in earnest.
Those who are eligible for membership are those aged 15 to 34 who have worked at small and medium-sized companies for more than a year. In case of discharged soldiers from the military, the maximum age shall be limited to 39 years of age, with the additional age recognized as the period of service.

The key point of the reserve structure is for young workers, companies and the government to jointly set aside deductions and for those who are in office to receive the full amount of reserves at the expiration of the deduction. Specifically, the government will set aside 10.8 million won (7 times in installments) in the first three years of the reserve period, while the incumbent and the companies will set aside more than a certain amount during the five-year period. Given that the reserves are 120,000 won per month for those in office and 200,000 won per month for companies, beneficiaries will be able to form assets totaling 30 million won for five years of service.

In the event of a mid-term termination, young workers will receive both deductions and government subsidies, but if they are attributable to workers, companies will receive contributions from small and medium-sized companies, and young workers will receive payments and government subsidies will be received by young workers. However, government subsidies should be returned to the government if the reasons attributable to young workers are terminated due to illegal activities such as illegal supply and demand.

There are also each preferential treatment for companies and young employees. Companies will be granted 25% tax deduction by recognizing the entire payment as a loss and also as general and human resources development expenses, and additional points will be given when they participate in projects to support the Ministry of SMEs and Venture Business. Youth workers are entitled to a 50 percent reduction in income tax when they receive reserves.

What's special about it is that among the existing "Naeil Cheum Fund" subscribers, those who meet the target conditions can switch to tomorrow's fill deduction. Tomorrow's fill deduction is a system aimed at long-term employment of key personnel of small and medium-sized enterprises (workers designated as long-term employment due to their high contribution to their duties) and the inflow of outstanding workers under the "Special Act on Support for Small and Medium Enterprises." The difference is that there is no government subsidy because the deduction set aside jointly by employers and key personnel is paid in the form of performance compensation to key personnel who have worked for more than five years. 
Copyrighters © No unauthorized reproduction or redistribution of policy briefing

Weekly Sympathy, " Half of our employees switch to the Naeil Cheum Fund", <Policy Briefing>, 2020.03.12